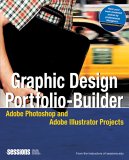 CreativePro.com has a free sample chapter from theGraphic Design Portfolio-Builder: Adobe Photoshop and Adobe Illustrator Projects book.
I found the case studies provided very helpful and I ended up learning a few things about the design issues when creating Posters.
You can view the page by clicking here
Certain principles of composition — unity, balance, and rhythm — can make your posters stop people in their tracks. This article uses illustrations and examples to help you turn principles into effective posters.
The article is available at: http://www.creativepro.com/img/story/posters.pdf