Halloween is coming up quickly and before we know it we'll be trying to carve up some pumpkins. Everyone has seen the regular jackolantern design with the 2 triangles for eyes and the zig zag mouth. How about trying something different this year?
Using Photoshop you can easily and quickly create a stencil that you can use to carve up pumpkins.
The first step is the most important. Find an image that has enough shadows and shapes so that we can carve a face with out having the pumpkin break up. For this tutorial I'm going to use a screen shot from The Exorcist. The picture can be disturbing for some people so be careful when you click on more:-
Okay. Step 1. I chose this picture: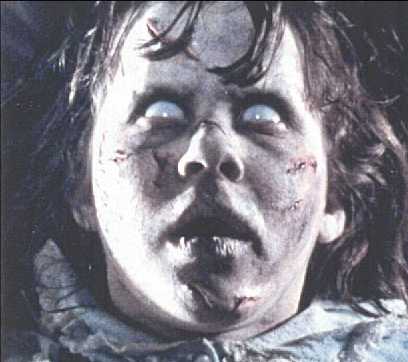 I chose this one because a) It's scary. b) There are lots of well defined shapes in the image. For example there are well defined light areas and well defined shadow areas. Most of the shadows are joined together and that would make for a pretty stable pumpkin.
Step 2. De-saturate the image by going to Image > Adjustments > De-saturate and you will end up with something like: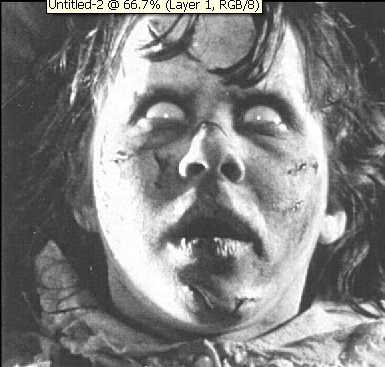 step 3. Go to Image > Adjustments > Brightness / Contrast. I did contrast 100% and brightness -60% and I got this: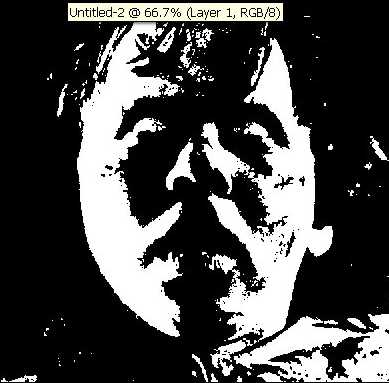 step 4. Next grab the pencil tool and use black for the foreground color. Make all the black areas so that they are easy to cut and are solid. Make sure that there are no floating black shapes because those would be impossible to cut. I got this: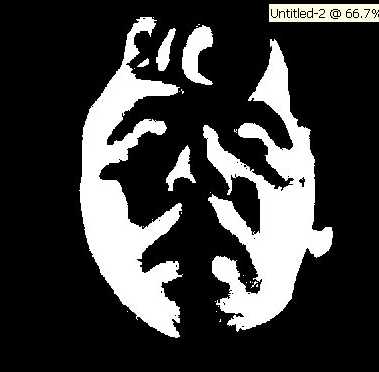 step 5. Crop and print. I cropped the image and printed out a large image. Big enough that it would fit a pumpkin. Now cut out the white areas and leave the black areas and you will have a very cool carved pumpkin! Here is a big one version of the image:
here is a good site to get inspiration: http://www.jack-o-patterns.com/Carvings2005.ivnu
here are some free cut outs made by members of somethingawful.com
HomeStarRunner Pumpkin Stencils