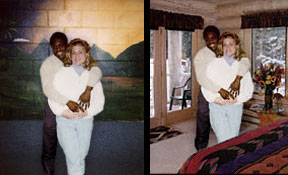 A company called Friends Beyond the Wall provides a service for prisoners and their families by pasting them in front of exotic vacation backgrounds.
It only costs $10 and you and your jailbird spouse can go on exotic vacations with out even leaving the jail cell.
The testimonials are very positive and it is a good way of using Photoshop in a positive way by helping people patiently waiting for their friends.